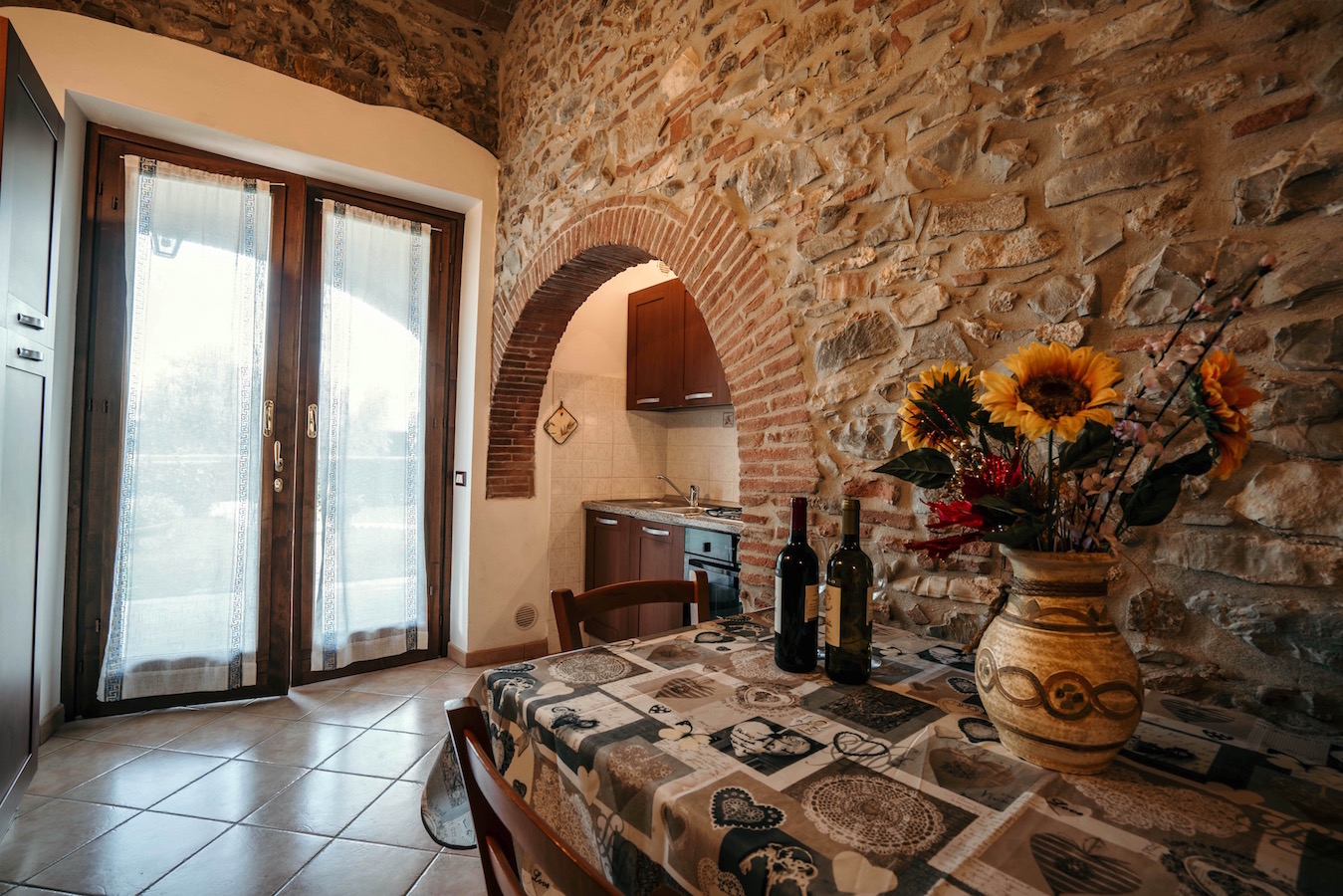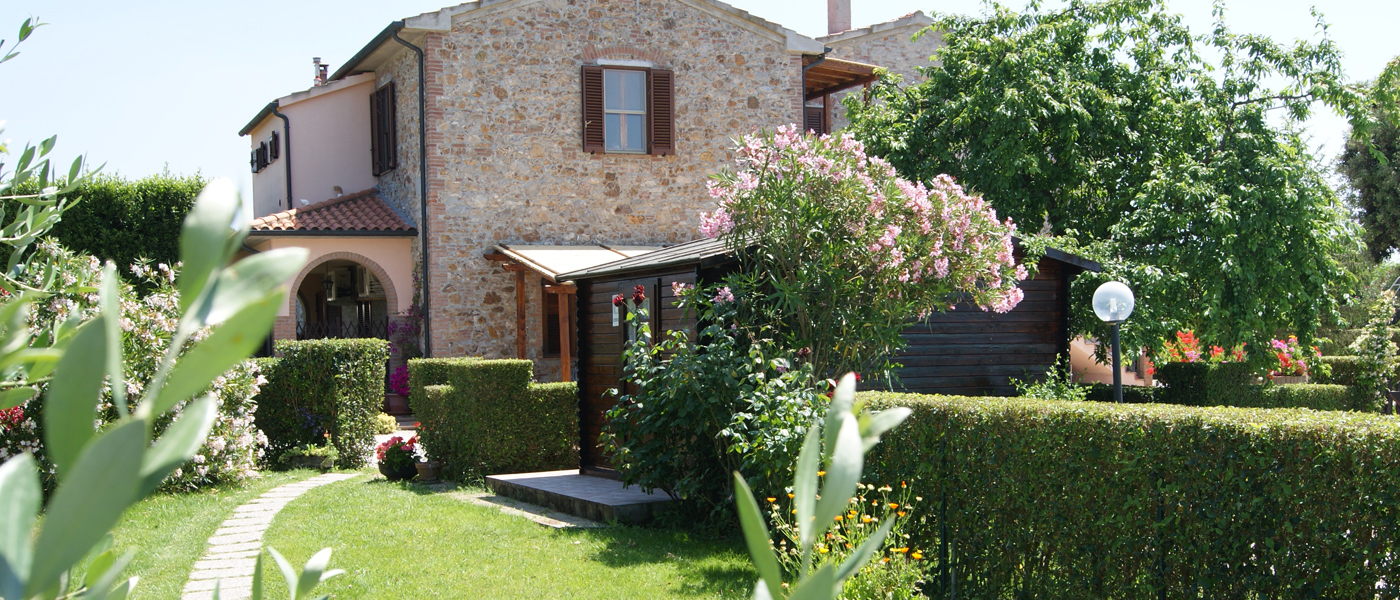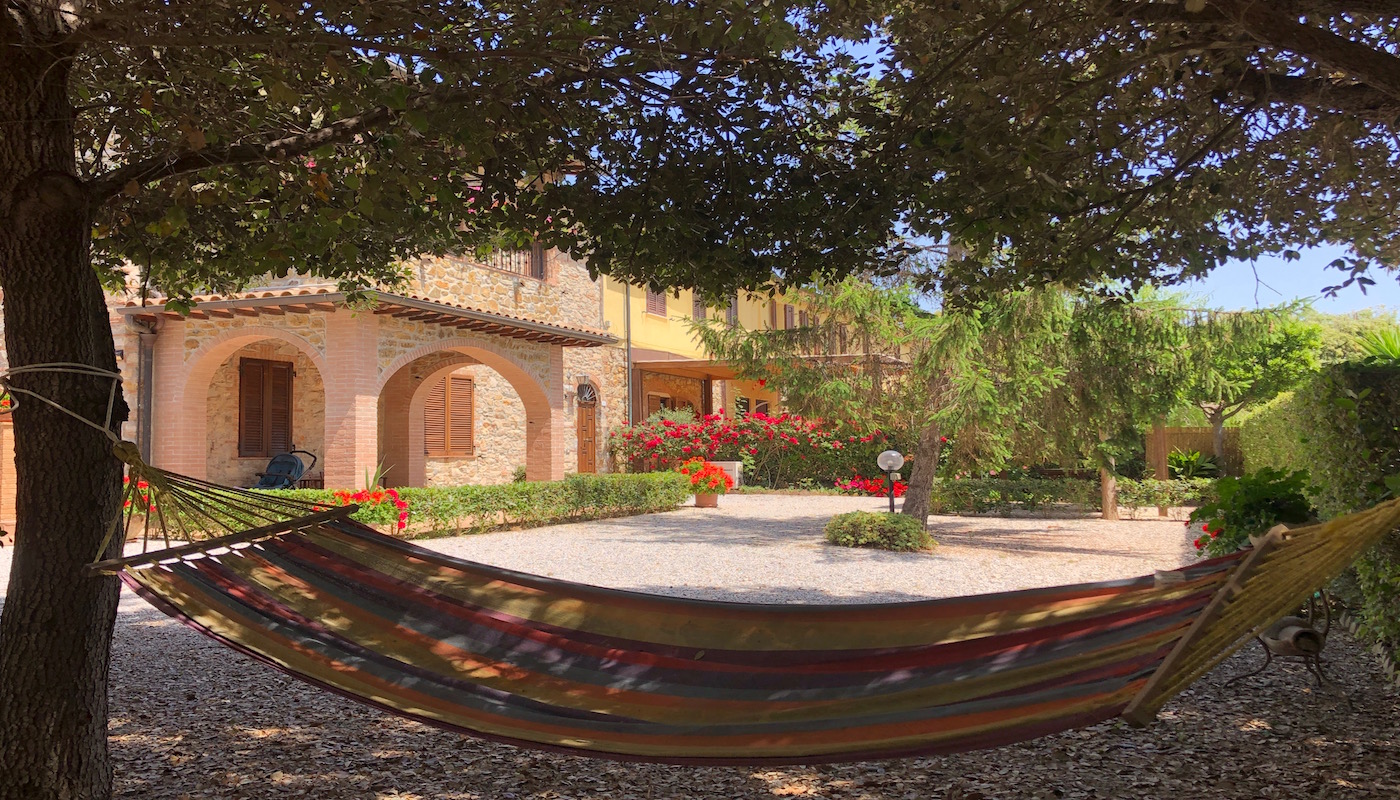 In the heart of the charming Tuscan countryside you can enjoy the benefits of outdoor life as well as some interesting local resources, such as unforgettable landscapes and incomparable historical and cultural insights. In Val di Cornia, Località Cafaggio lies "Casa Vacanze Ribocchi", the result of a careful restoration of an early  1900 farmhouse , carried out in a rustic Tuscan style, but very elegantly and well appointed.
The home exterior is in stone cladding and has been carefully sand-blasted, with a large porch with arches and original ancient brick floor. On the garden side there's a large brick and wrought iron external staircase.  The windows are large framed and bright, and made from precious chestnut wood.
The farmhouse is surrounded by olive trees and vineyards, and the area is reknown for excellent wine and virgin olive oil,  thanks mainly to the blessed climate.
The location was called by the Etruscans "The Valley of the Sun", as it's surrounded to the east by picturesque olive tree covered hills and Mediterranean vegetation. Looking west, the coast boasts neverending beaches and unpolluted waters. It's  ideal for children as the water is crystal clear and shallow so you can swim safely in most places. This is an ideal holiday for those who love nature, walking or cycling, fresh and pollution-free air, good food  & wine and great olive oil.
The farm belongs to the Paolucci family since 1981. "Our parents first dreamed of and then give us children a healthy genuine lifestyle and many simple but worthy values, that only a life in harmony with nature can teach."

It was "love at first sight": a farm in the middle of the three most beautiful bays of Tuscany, immersed in a countryside surrounded by olive trees hills and the Mediterranean Sea, away from the hustle and bustle of urban life. "We started living on the first floor, in a simple but cozy apartment. The ground floor of the old cellars and the old ruts where our fantastic playground.

We spent the winters gathering in front of the old fireplace made of untreated brickwork and spent the summers running barefoot outdoors. "

And then, with the sacrifices made by our parents, with their work, with their love for us children, the building was given a new lease of life. With a careful and attentive interior and exterior renovation it has become the Casa Vacanze Ribocchi that it is today.

With this same love we want to share the infinite charm of our farmhouse with our guests , like the crowing of the cockerel early in the morning, the vivid colors of nature and its fragrancies, the chirping of colorful birds, the genuine products of our land, the peace and tranquility of the Tuscan countryside.